Quick Links:
-View Event Video and Photos
-Purchase Tickets
-Donate Online
-Donate Via Mail, Stock or DAF
Welcome to the inaugural GameChangers Ball website. This event on Thursday, October 19th at the Edison Ballroom will be a special night for our organization. We will celebrate the achievements of our student-athletes and families and look to the future as we continue to Change the Game through our unique model. New Heights started with the belief that sports (for us basketball), when provided in a safe, structured and supportive environment, can have a huge impact on a young person's academic, leadership and personal development…and literally change lives.
We are at an exciting period of growth at New Heights, as we look to expand both the depth and breadth of our services to deserving NYC youth. As we start our 12th year of service as a non-profit, we are excited to share this evening together as all members of the New Heights family. The evening, hosted by Matt Iseman (Host of American Ninja Warrior and winner of The New Celebrity Apprentice) will be filled with inspiring stories from current participants, alums and supporters who all demonstrate the profound effect that a positive student-athlete experience can have.
By joining us and helping support this event, you are becoming a GameChanger yourself. THANK YOU for your consideration of support and we look forward to gathering next month to make an impact on the lives of so many impressive NYC youth.
Sincerely,
Ron Trichon Ty Wallach
Event Co-Chair Event Co-Chair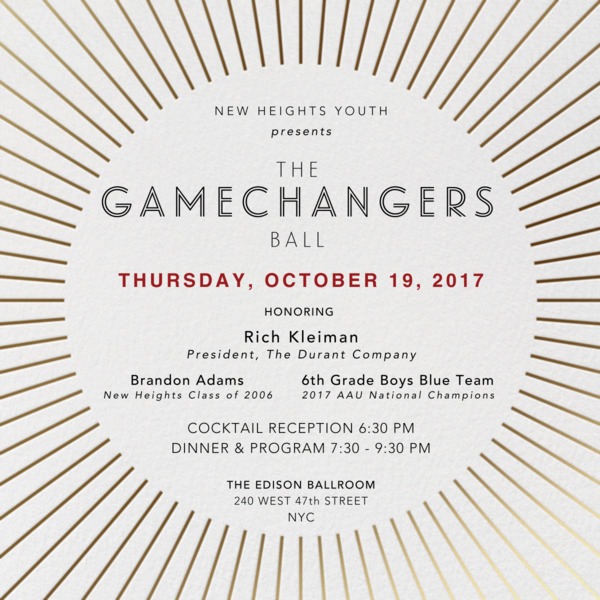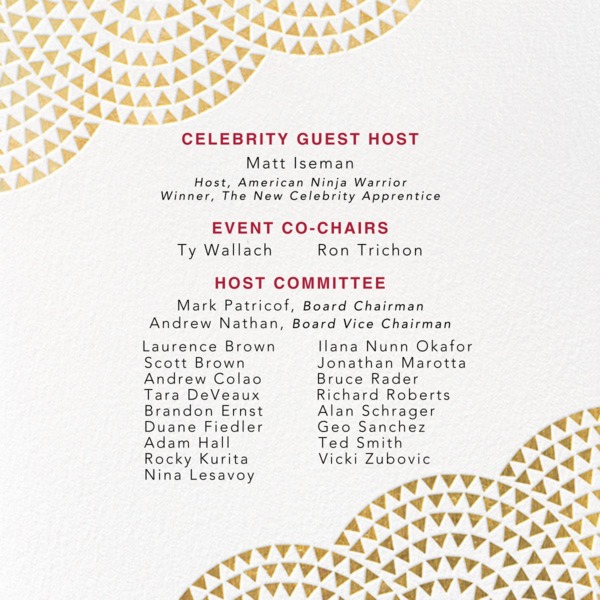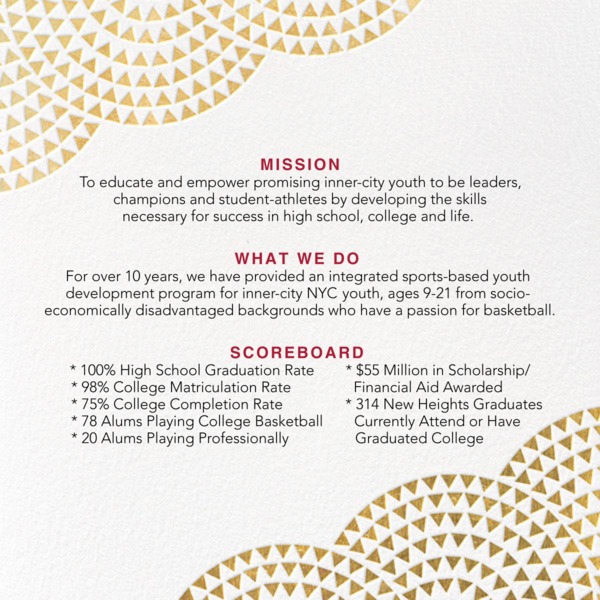 Ticket and Sponsorship Opportunities
Or Donate by Mail:
New Heights Youth, Inc.
2472 Broadway, PMB 112
New York, NY 10025
Thank you for your support!
EVENT CO-CHAIRS
Ty Wallach* Ron Trichon*
HOST COMMITTEE
Mark Patricof* Andrew Nathan*
Board Chairman Board Vice Chair
Rich Roberts*
Geo Sanchez
Alan Schrager*
Ted Smith*
Vicki Zubovic*
*Board of Directors
Laurence Brown*
Scott Brown
Andrew Colao
Tara DeVeaux*
Brandon Ernst
Duane Fiedler
ADAM HALL
ROCKY KURITA
NINA LESAVOY*
Jonathan marotta*
KIM McCall
Ilana Nunn Okafor
Bruce Rader